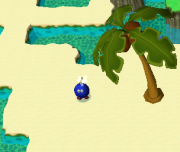 Not confused with a Wee-Stinker
Character Info
Edit
Baby Boomers are the tiniest Kaboom!s that live in Kaboom! Village. Like Wee-Stinkers, they don't fall asleep. but some of them have a short fuse. To detonate the short fuse, click and hold the Kaboom! and it will explode. They have only appeared in Wonderland Adventures: Mysteries of Fire Island so far in the Wonderland game series.
Appearance
Edit
They are small sized blue Kaboom!s.
Notable Members
Edit
Ad blocker interference detected!
Wikia is a free-to-use site that makes money from advertising. We have a modified experience for viewers using ad blockers

Wikia is not accessible if you've made further modifications. Remove the custom ad blocker rule(s) and the page will load as expected.