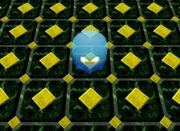 The Ghosts are enemies that are from
Return to Wonderland
and
Wonderland Secret Worlds
. Their movement is usually faster than
Coilys
and slower than the
Kabooms
. Ghosts don't cross
water
,
lava
, or
empty space
but they can pass through
gates
, enemies, and all movable
objects
exept for
Plasma Boxes
, they will block them and they also expload if they get near a
Powder Keg
. They can't press
buttons
either. They won't die if a
fireball
hits them because fireballs can go through ghosts and the continues its normal path.
In Wonderland Adventures: Planet of the Z-Bots, Ghosts reappear when The Creepy Keep is revisited, now they have a messed up pink texture and they slowly chase the player. They disappear if the player is away from them and reappear when the player comes close again.