Regular Scouges
Edit
Scouges are cannons that automaticly shoots fireballs in a certain directions. There are four different speeds for fireing that's assigned to Scouges.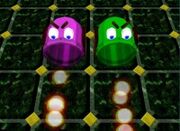 Push Cannons
Edit
See main article: Push Cannons
Appearences
Edit
These appear in the first three Wonderland games, in Wonderland Adventures they are replaced with fireflowers and in Wonderland Adventures: Mysteries of Fire Island they reappear briefly in the Floing Void.
Ad blocker interference detected!
Wikia is a free-to-use site that makes money from advertising. We have a modified experience for viewers using ad blockers

Wikia is not accessible if you've made further modifications. Remove the custom ad blocker rule(s) and the page will load as expected.