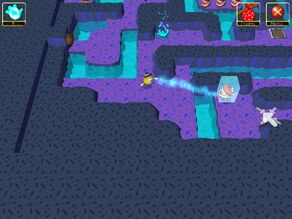 About Wonderland Adventures
Edit
Wonderland Adventures was released in 2007. WA returns you to the magical world of Wonderland in a all new puzzle filled adventure. Once again the safety of Wonderland is in danger, & its up to you to save the day. Featuring entirely redesigned game play mechanics, puzzle elements, 3D visuals, & more. This is Wonderland like you never played it before!
Wonderland Adventures Features
Edit
A compelling adventure story
Edit
Explore the vast world of Wonderland, meet & interact with new characters like Morklin, Pootsy, Wee-Stinker's, & Cedric-in-the-Morning, go on new adventures, learn to use magic like pop, blink & ice, & encounter new surprises in every corner. Wonderland Adventures is a family friendly-game that can be enjoyed by people old & young.
Beautiful audio visuals
Edit
Wonderland Adventures features all new 3D visuals that will transport you into the world of Wonderland like never before. A symphonic musical score by Jonne Valtonen & delightful sounds & voice effects to complete the experience.
Varied level design
Edit
Test your wit & challenge your reflexes as you travel through Wonderland. Your adventures are as varied as rescuing Wee Stinkers, retrieving magical objects like Shards, or learning to outwit Scritters, Chompers, Thwarts, Dragonturtles & more. Wonderland has somthing for everyone.

External links
Edit
http://www.midnightsynergy.com/adventures/
http://www.midnightsynergy.com/nutters/WA/WAstars.htm