About WA: POTZ
Edit
Wonderland Adventures: Planet of the Z-Bots is a game from
Midnight Synergy
, it is th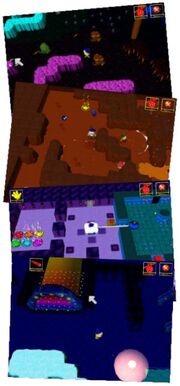 e sixth game in the
Wonderland
game series. The game was released on October 24, 2013. Wonderland Adventures: Planet of the Z-Bots takes you to new places within Wonderland Academy of Magic, but it will also let you explore new worlds filled with their own mysteries, puzzles, and strange-if familiar-inhabitants. You will travel deep into the wasteland of the planet
Barren
, be mystified by the engimatic world of
Uo
and of course pay a visit to the homeworld of the shocking and nefarious
Z-Bots
. The game will also be a chock-full of brand new gameplay elements and creatures. Will you unlock the inner workings of the Z-Bot transportation mechanisms? Will you survive the dangerous traps from the
Lurkers
? And will you master Flash Magic, the last remaining
Rainbow Magic
? There are 132 adventures in this game featuring original and inventive puzzle designs. From
AutoDoors
to
Z-Bot Motherships
and from
Suction Tubes
to
Star Trails
there are a lot of new objects in the game.
External Links
Edit
http://www.midnightsynergy.com/newsletter/issue022/page2.htm
http://www.pcpuzzle.com/forum/viewtopic.php?t=21061&postdays=0&postorder=asc&start=0
http://www.midnightsynergy.com/adventures3/ (Buy the game here)
Ad blocker interference detected!
Wikia is a free-to-use site that makes money from advertising. We have a modified experience for viewers using ad blockers

Wikia is not accessible if you've made further modifications. Remove the custom ad blocker rule(s) and the page will load as expected.