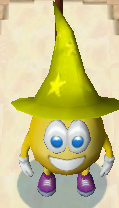 Character Info
Edit
Zoopi Lala (In Japanese: ぞおぴ Meaning His or her first name in Japanese) is a stinker from Wonderland Adventures series, he or she is a student of Pop Magic. Zoopi Lala is the only known stinker to have a last name.
?
Animal/Species
Edit
Stinker
Unknown
Apearance
Edit
He or she is medium-sized wearing a yellow wizard hat, purple shoes, and has blue eyes.
Ad blocker interference detected!
Wikia is a free-to-use site that makes money from advertising. We have a modified experience for viewers using ad blockers

Wikia is not accessible if you've made further modifications. Remove the custom ad blocker rule(s) and the page will load as expected.